Springfield Mile; Sept. 5th, 2020
Super Twins;  Saturday's race
Provisional AFT SuperTwins Main Event Results (all on Dunlop tires):
1. Sammy Halbert (Ind), 26 laps
2. Jared Mees (Ind), -1.981 seconds
3. Jeffrey Carver Jr. (Ind), -10.450
4. Brandon Robinson (Ind), -10.491
5. Davis Fisher (Ind), -11.770
6. Brandon Price (Ind), -12.368
7. Briar Bauman (Ind), -12.518
8. Bronson Bauman (Ind), -13.581
9. Dalton Gauthier (Har), -13.640
10. Jarod Vanderkooi (Har), -15.131
11. Dan Bromley (Ind), -31.002
12. Jay Maloney (Ind), -1 lap
13. Ryan Varnes (Ind), -1 lap, 18.482 seconds
14. Kolby Carlile (Yam), -1 lap, 36.669
15. JD Beach (Yam), -2 laps
16. Andrew Luker (Ind), -7 laps
17. Bryan Smith (Har), -15 laps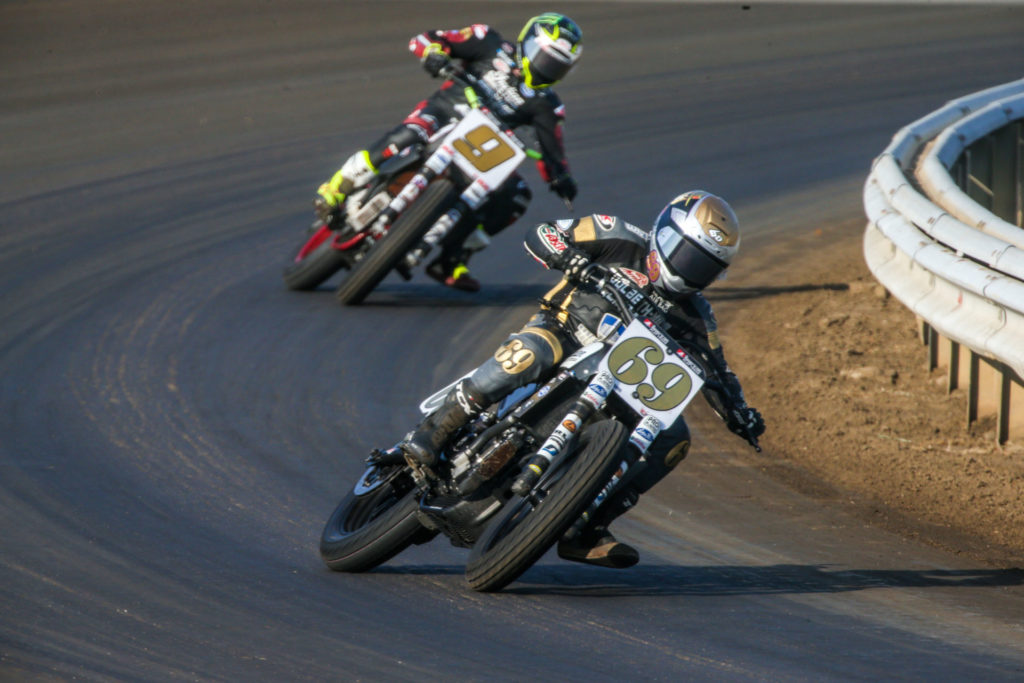 More, from a press release issued by American Flat Track:
Halbert Slams 'Em at Springfield Mile I
SPRINGFIELD, Ill. (September 5, 2020) – Sammy Halbert (No. 69 Coolbeth-Nila Racing Indian FTR750) provided an undeniable reminder of his immense talent with a commanding performance in Saturday's AFT SuperTwins presented by Vance & Hines Main Event at the Springfield Mile I presented by Memphis Shades.
"Slammin' Sammy" has long been regarded as one of the elite riders on the American Flat Track scene, but his 14th career Grand National Championship race win came as his first in more than four years. Over that span, he'd found himself on the wrong end of Indian Motorcycle's recent series domination. Now that he's got an FTR750 of his own, Halbert once again figures to be a significant factor in the '20 AFT SuperTwins title fight.
That possibility seemed obvious in Saturday's 14-minute plus two lap Main at the Illinois State Fairgrounds in Springfield, Illinois. Halbert and multi-time champ Jared Mees (No. 9 Indian Motorcycle/Progressive Insurance FTR750) broke free from the pack as early as the race's opening lap and settled in for what appeared likely to be a race-long shootout to the checkered flag.
After the two swapped the spot back and forth numerous times early, Mees seemed content to just sit on Halbert's rear wheel and bide his time. However, with two minutes to go, Halbert proved that it was him, in fact, who was waiting to make his move.
At that point, Hablert threw down the fastest laps the track had seen all day. Mees had no answer and all he could do was watch Halbert sprint away to a near two-second margin of victory.
Halbert said, "Oh man, it's so long overdue. It's sort of surreal. Some days it just happens — like I didn't even have to try too hard. I'm so stoked. It's been such a pleasure to work with Kenny Coolbeth and John Weiss with the Coolbeth-Nila Racing team.
"I had a fun race there. For a while I didn't think I could shake Jared, but I just started to put it together. I could tell he was struggling off of Turn 4, spinning a little bit. I just kept trying to break him and finally I did. It feels amazing — I'm going to try to make a habit of it."
Mees was able to cruise to second with a multi-rider fight for the final spot on the box more than ten seconds back of the win.
Springfield hero Jeffrey Carver Jr. (No. 23 Happy Trails Racing FTR750) took home third in the end, out-dueling fourth-placed Brandon Robinson (No. 44 HCRR Racing/Ben Evans Racing Indian FTR750) and fifth-placed Davis Fisher (No. 67 BriggsAuto.com Indian FTR750).
Reigning Grand National Champion Briar Bauman (No. 1 Indian Motorcycle/Progressive Insurance FTR750) finished in seventh, 0.150 seconds behind Brandon Price (No. 92 Roof Systems of Dallas, Texas Indian FTR750).
As a result, Mees has reclaimed the points lead and remains the sole rider with a perfect podium record on the season. Bauman is now five points back (107-102), while the on-form Halbert is a strong third with 91.
Halbert will look to close in even further on Sunday. He said, "The guy that wins tomorrow is the one who gets to enjoy it all week, so we're going to put our heads down and try to do that. I think we're ready and I'm feeling good."
AFT Production Twins